Well, here's step two of the new cat tree... I bought a 4 foot length of 12 inch diameter SonoTube. They use this for making concrete columns... and cat tree perches. Around $10 at the local home improvement store. I cut it in half, then one of them in half again, longways.
Here's Toby in the tube, and Libby looking a little disgruntled that she didn't beat him in there: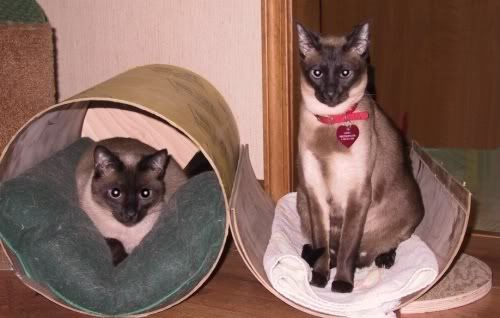 And of course, two minutes later, here's Libby in the tube, and Toby wondering how he got displaced. Doesn't she look a lot more pleased with herself in this second picture?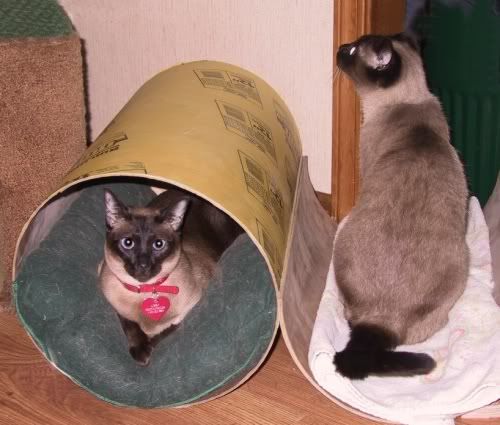 I am planning that the tube will be the highest perch on the cat tree, and the half pipe next to it will be one level lower, with the ladder in the previous post connecting one to the other, at a good climbing angle. The semicircular bit of plywood you see to the right of the half pipe will be at one end of it if I can figure out a way to make a washable cover that will fit over it. That old yellow towel (from the 70's, I'm ashamed to admit) will be the padding for the half tube, and I'll recover the green fleece pillow for the whole tube. Thinking about maybe dots of velcro for the covers, because if I put little ties, surely someone would untie them. :D
More later! And if any of you have any good suggestions, I'm always open. :P